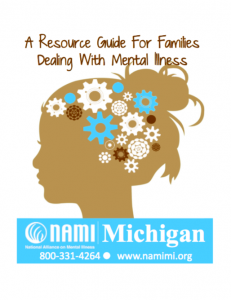 If someone in your family has a mental illness, you are not alone. Members of NAMI Michigan have learned the hard way about mental illness and services available. We have compiled a great deal of information into a free resource guide that would have been useful to us at the beginning or our journey, in the hope that it will be helpful to others as they find ways to understand and cope with mental illness in their families.
Our NAMI Family Resource Guide introduces NAMI Michigan and provides chapters on such topics as:
Major mental illnesses
Mental illness and the family
Individuals with mental illness in the community
Financial considerations
Working with the system
In addition, there are appendices with lists of additional books and other resources, a glossary of terms and acronyms, links to useful web resources, and a copy of the Form PCM 201, Application/Petition for Hospitalization
We welcome you to download your own copy of the NAMI Family Resource Guide here!